Our Story
Unto us a star is born unto us a sun is given. RASTA got a job to do and he's got complete his mission, we will survive in this world of competition. Binghi Blaze brings to you songs of love, peace, upliftment, honor and glory. From that time until this time let the music play. Rastaman Vibration Positive.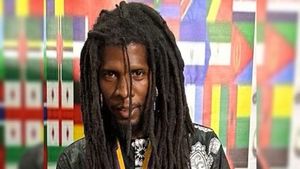 Binghi Blaze drops The Rastalution
https://edge105.com/binghi-blaze-keeps-up-the-pressure
The Rastalution, debut album from roots singer Binghi Blaze, will be released on October 24. It contains 15 songs, most of which are produced by veteran musician Dennis "Jah D" Fearon.
Two songs from the set — Pressuring The Poor and Rastamance — have already been released.
After 10 years of recording singles, Florida-based Binghi Blaze feels a sense of pride getting his first major project out.
"I feel overjoyed, not only because it's the first album, but to know that the core of the album was produced by such a guru. Jah D is a very humble, gifted, kind and just a clean an' great person," he said.
Fearon, whose career started at Studio One in the 1960s, produced 12 of the songs on The Rastalution. His son, Dia Fearon, played keyboards on the set while Prince Manning played most of the drums.
Binghi Blaze (real name Gary Williams), who is from Manchester, first met Fearon four years ago and made an instant creative connection. They began production on what became The Rastalution two years ago.
A devout Rastafarian, Binghi Blaze began playing music as a youth in church. He excelled in athletics while attending Knox College which he represented in the 800 metres at 'Champs' but has been into music full-time for the past decade.
Binghi Blaze and the Rastalution Band will introduce The Rastalution at The Garden in Fort Lauderdale on October 14.
Binghi Blaze has an open minding
https://www.reggae-vibes.com/news/2022/06/binghi-blaze-has-an-open-mind/
PRFERENCE FOR MESSAGE-ORIENTED SONGS
In late July, Jamaicans make final preparations for their country's 60th anniversary of independence from the United Kingdom. Roots singer Binghi Blaze has added a reason to celebrate.
His debut album, still to be named, is scheduled for release two weeks before the fireworks on August 6, Independence day in Jamaica.
The album is produced by Dennis "Jah D" Fearon, known for his work with Edi Fitzroy and Culture. He disclosed that a decision will be made soon on the number of songs for the set which he describes as "Roots, Rasta an' not necessarily entertainment."
In early June, the South Florida-based Binghi Blaze released Rastamance, a ballad dedicated to the "Empresses" of di world".
According to Binghi Blaze, he has an open mind when it comes to music.
"Wi 'fulljoy' everything di Almighty tell mi fi do except dancehall an' hip hop. As a matter of fact, I plan to do an whole album fi di ladies," he stated.
For now, the majority of his songs are message-oriented. That's the sound Binghi Blaze has shown preference for since he kicked off his recording career with Jah Is In Full Control nine years ago.
Other songs, like One True Friend and Put It Down, have the roots-reggae feel that attracted him to music and Rastafari.
The dreadlocked artiste has been musical since childhood although the sounds he played as a boy were gospel — far from the Afrocentric themes of his future heroes, Bob Marley, Peter Tosh and Vaughn Benjamin.
He was also a promising athlete, participating in Jamaica's vaunted annual championship over 1500 and 800 metres.
After meeting Fearon four years ago, he experienced renewed focus in music. In 2020, they began production on his debut album with Fearon and his son Dia handling most of the keyboard parts; Prince Manning of The Abyssinians band played drums.
Where Binghi Blaze is most pleased, however, is with the area of songwriting.
"My level of thinking has gone on a different path because I'm stronger mentally, physically. and spiritually. Those songs I wrote before are good but I believe the ones for di album are on a different level," he said.
(Photos courtesy of Binghi Blaze)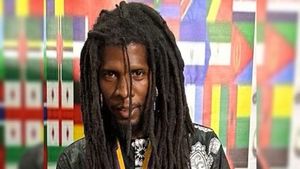 CLINTON LINDSAY » BREAKING NEWS, Featured, Home, NEW RELEASES » SOUTH FLORIDA-BASED ROOTS SINGER BINGHI BLAZE, PREPARES TO RELEASE NEW ALBUM LATER THIS SUMMER!
June 19th, 2022 | Add a Comment
Four years ago when roots singer Binghi Blaze first met keyboardist Dennis "Jah D" Fearon in Kingston, he was struck by the veteran keyboardist's humility and willingness to share his knowledge about music, especially the production side.
In 2020, they agreed that Fearon would produce Binghi Blaze's first album, a collection of conscious songs scheduled for release in late July.
"From I meet Jah D, is like my life change. Him have a wisdom that is unlimited," said Binghi Blaze, who is based in South Florida.
Production on the set started two years ago and includes input from Diavallan "Dia" Fearon, who like his father is a keyboardist. And Prince Manning, drummer for The Abyssinians.
According to Binghi Blaze, the album which is yet to be named, is heavy on roots themes. He describes it as "word, sound and power" which is the hallmark of his musical heroes who include Bob Marley, Peter Tosh and Dennis Brown.
Binghi Blaze is from Manchester parish, a rural region in central Jamaica that has produced acts like Garnet Silk and Tony Rebel. His introduction to music was playing drums in church but once he discovered the rebel music of Rastafarian artists like Marley, he had a change in focus.
As he prepares to release his album, the dreadlocked artist is promoting the self-produced ballad, Rastamance, which was released in June.
LATEST NEWS Binghi Blaze hitting the road with 'Rastalution
Binghi Blaze hitting the road with 'Rastalution'
‌Howard Campbell
A former middle-distance athlete, Binghi Blaze knows how important timing is to victory. He has taken a similar approach for Rastalution, his first album.
The 15-song set had a soft launch in October at The Garden in South Florida, but the Rastafarian artiste says the real donkey work starts in early 2023.
"Wi going on a promotional tour with di album. Wi want to do some shows, some videos too," he said.
Binghi Blaze co-produced most of Rastalution with veteran musician Dennis "Jah D" Fearon. It contains 'One True Friend', a song released four years ago; 'Pressuring The Poor' and 'Rastamance', other previously released singles, are also on the album.
The Manchester-born singer performed several of the songs at The Garden, as well as at the Black I Am Awards in Atlanta, Georgia last month. Rastalution's songs, Binghi Blaze noted, are rooted in reality.
"All words are geared at improving knowledge of self. There is a song for everyone," he said.
Born Gary Williams, Binghi Blaze grew up in a devout Christian home and began playing music in church. But at Knox College in Manchester, it was track and field that got his attention most, and he competed for that school at Boys Champs over 800 metres.
While still involved in athletics as a student at G C Foster College in Spanish Town, he began writing songs. 'Jah is in Full Control', Binghi Blaze's debut single, was released in 2013.
Four years ago, he met Fearon, who has worked with roots acts such as Culture and Edi Fitzroy. They agreed to collaborate on an album, co-producing 12 of the songs on Rastalution on which Fearon played keyboards, Prince Manning on drums with Phillip Jones and Barry Porter on guitars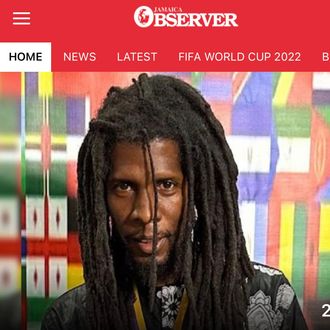 LATEST NEWS Binghi Blaze examines Rasta solutions in 'Pressuring The Poor'
https://www.jamaicaobserver.com/latest-news/binghi-blaze-examines-rasta-solutions-in-pressuring-the-poor
Making music is a joy to roots singer Binghi Blaze. Giving praise to Jah is just as fulfilling.
On 'Pressuring The Poor', a song produced by UTH Music, he looks at society's ills and the solutions his faith has for them.
"Well, Rastafari have so many influence in society because of the moral integrity, righteous living, natural way of living, which are the foundation and pillar of any society. Everything that the Rastas were implementing and still upholding, but they were chastised and ridiculed for, is now the norm of society," Binghi Blaze noted.
Some of those implementations include legalising marijuana and benefiting economically from its versatility in making clothes and oils. Binghi Blaze also points to the number of health food/products restaurants and stores that have emerged in Jamaica during the last 20 years as manifestation of a vision Rastafari first projected over 50 years ago.
That vision, he added, also includes a way out of the poverty and crime that has engulfed his homeland for many years.
"Politics in Jamaica is at its worst. School, Church and politics have failed the people. Rasta will never be politicians or have a political party, just Rastafari movement working towards the better self of the people. We bun a fire for all 'poLIEticians'!" he exclaimed.
Interestingly, Binghi Blaze (born Gary Williams) grew up in a devout Christian home in Manchester. His family were members of the Mount Carmel Gospel Hall Church where he learned to play drums.
Binghi Blaze was drawn to the message of Rasta in his teens, after discovering the music of Bob Marley, Peter Tosh and Dennis Brown. Rastalution, his first album, was also recently released.